[ad_1]
In January of 2020, Sirkin Research was commissioned by NewsCred to examine the top marketing initiatives and challenges faced by marketing executives and leaders related to marketing work management, such as campaign planning and budgeting, resource management, and performance measurement, to name a few. The Marketing Initiatives for 2020 survey research is based on nearly 100 survey responses from marketing directors and above in enterprise-level organizations, typically $1 billion or more in company revenue.
Marketing Initiatives for 2020 survey summary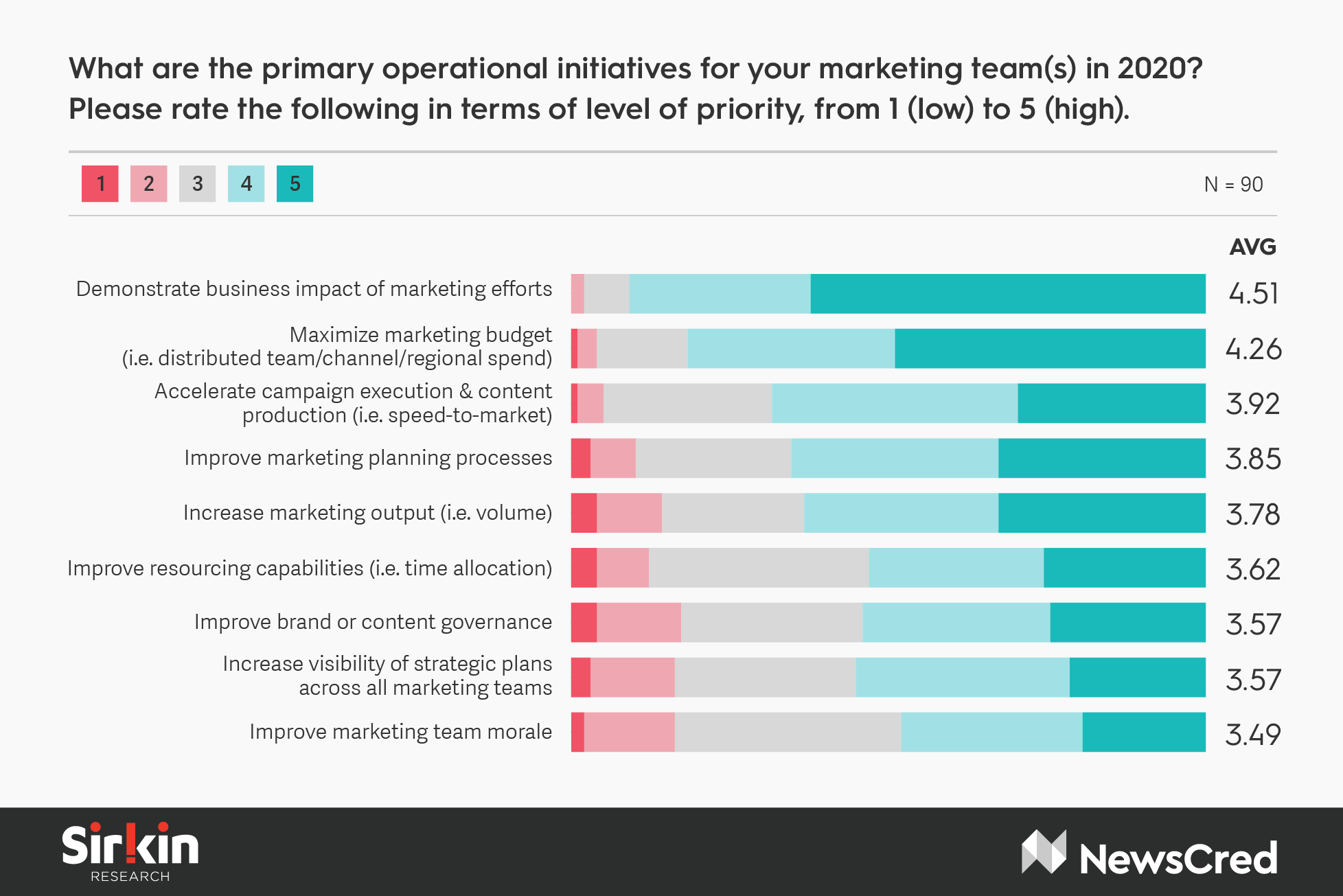 The survey insights indicate that being able to measure and prove the impact of marketing efforts and being operationally efficient (maximizing time, budget, and resources) are top marketing initiatives for 2020. The initiatives that ladder up to the top goals, such as increasing output and improving processes, further stress the importance of marketing work management: that is, managing campaigns and marketing efforts in the most effective and efficient ways to reduce the bottlenecks that keep marketing work from getting done faster.
Top marketing initiative #1
90% of integrated marketers cite that demonstrating the business impact of their team's marketing efforts is their highest priority.
As most CMOs and marketing leaders know, being able to measure and prove the impact of marketing efforts is an essential part of running a team. It's also a vital component of demonstrating to your CFO that you need more budget and/or resources (another important initiative that will be covered in the next section). In fact, over 60% of marketers face pressure from their CEO or board to prove the ROI of marketing, so it's no wonder that demonstrating marketing impact is one of the key marketing initiatives for 2020.
Pro Tip: Implement a solution that stands as the single source-of-truth for all of your marketing efforts. This will not only help your team keep track of and measure the outcomes of their initiatives, but it will also give upper management constant visibility into marketing performance.
Top marketing initiative #2
Marketing budget is like the hours you have in a day — there's never enough so you have to maximize what you have. According to the survey, 100% of integrated marketers say that maximizing their budget is one of the top marketing initiatives for 2020. Maximizing budget for certain marketing-related line items can be difficult. Additional research has shown that content creation is a main budget focus, and in many cases, a challenge. And let's not forget that Martech spend hit $100 billion in dollars spent in 2019, which means that many enterprise marketing teams are using various, disparate tools that all contribute to budget spend.
Pro Tip: The first step for maximizing your marketing budget is to find out how much you currently spend, and where. Use a centralized marketing platform that allows you to tie program costs to marketing efforts so you can keep track of and better manage your budget.
Top marketing initiative #3
61% of marketing executives say that improving planning processes to accelerate campaign execution is a priority.
The key to running an effective marketing team is to be able to plan and execute campaigns and their supporting content in an efficient, timely manner. So it's no surprise that the third most important marketing initiative for 2020 is accelerating time-to-market. Rather than wasting time on work about work — sending around a piece of content via email for multiple approvals, for example — marketing leaders need to focus on finding ways to automate the time-consuming processes that typically keep marketing work from getting done quicker.
Pro tip: Use technology to streamline processes and implement documented workflows for getting campaign-related work done. Whether it's creating content or visual assets from start to finish, a marketing work management platform will allow your team to keep track of and accelerate the production of all elements of a campaign.
About NewsCred
NewsCred unleashes the potential of marketing by unifying and empowering teams to work better together. Purpose-built for the complexities of marketing, NewsCred's Marketing Work Management software accelerates campaign execution and content production by enabling the entire marketing organization to collaboratively plan, produce, and manage campaigns and content. Used by Twitter, Fidelity, Cisco, USAA, among others, NewsCred also offers the industry's leading Content Marketing Services to help brands deliver high-performing content at scale.
Founded in 2008, NewsCred has partnered with hundreds of the world's best marketing organizations to provide unprecedented control and visibility, enabling them to improve operational efficiency, create exceptional content, and elevate marketing results.
Learn more at www.newscred.com.
About Sirkin Research
Sirkin Research is focused on conducting primary research and delivering rich data insights to guide better decision-making for businesses. Located in Philadelphia, PA, USA, Sirkin research has over 15 years of experience working for some of the largest global technology and financial brands in the world. The firm's work spans the globe from Copenhagen to London to New York. Sirkin Research is a brand of Arras Consulting, www.arrasconsulting.com.
Originally published on Feb 14, 2020 4:00 PM
[ad_2]