[ad_1]

Top tips for making a quick but effective content audit
One of the common themes I continually revisit in my work and writing is the proliferation and abundance of content. For brands looking to use content, and content marketing more specifically, to reach and engage prospects and customers, they have to think very carefully about the value and utility of their efforts and how this benefits their audience to generate action.
There are many great resources and links to in-depth content audits, including Smart Insights' 360 content marketing audit Quick Win. These are essential for anyone looking to conduct a detailed evaluation of a brand's current content situation to make changes and recommendations. However, in this post, I'd like to highlight just five simple steps and techniques that I have personally found useful for making a quick assessment. This can often be useful for digital marketers looking to make a quick overview when starting a new company or for anyone else (e.g. brand managers, marketing managers, etc.) who want to understand how content is being used.
What is a content audit?
The concept of a 'content audit' can mean different things to different people and the scope can change greatly depending on the emphasis. Some will review an entire brand's content presence (online and offline), whilst others will focus more on usability or UX. For this post, I'll be considering the use of digital content from a content marketing perspective and how content is used to drive reach, engagement, and interest with consumers across digital channels.
---
Need help with your Content Marketing Strategy? We have an entire Toolkit dedicated to helping you plan, manage, and optimize your content throughout the customer journey, including:
---
What are the benefits of running a content audit?
It's fair to say that conducting a content audit is not always the most glamorous of tasks. But when carried out well they can deliver a disproportionate amount of value. Some of the benefits of a good content audit include:
Evaluate content quality and effectiveness

Understand what is/ isn't driving performance
Set new standards for good quality content

Identify content gaps

Discover new topics and areas that will resonate with your audience
Identify the right content types and assets to leverage

Improve user experience

Take a user-centric view of content
Improve content structure and information architecture

Enhance search engine optimization

Highlight areas of focus based on search demand
Remove content that could harm search performance, e.g. poor quality, 'thin' content

Enhance content efficiency

Identify opportunities to re-purpose or create new content
Leverage social media to amplify content
Five areas of focus
If you have limited time and budget and want to conduct a quick but effective audit, what are the main areas of focus? Everyone will approach this differently but here are the steps and techniques that I have found useful:
1. Reach: organic and paid visibility
Understanding how you're reaching users from both a paid and organic perspective will give you an indication of where you stand versus competitors and begin to unearth areas for improvement and opportunities to create new content.
Key questions:
How are key pages rankings organically?
What is your brand's market share vs. competitors?
What social media presence do you have?
Steps and actions:
Check organic search visibility for key terms and phrases using a keyword tracking tool such as Moz or SEMrush to understand where content is appearing in the search results:

How is your brand appearing for universal search results? Depending on your brand and business consider how you are optimized for the following organic sections: Organic listings, images, videos, news, local (map), hotels, books, and knowledge graph profiles.
Review social reach and engagement to understand paid and organic reach of content and how it is resonating with audiences across all the main social channels: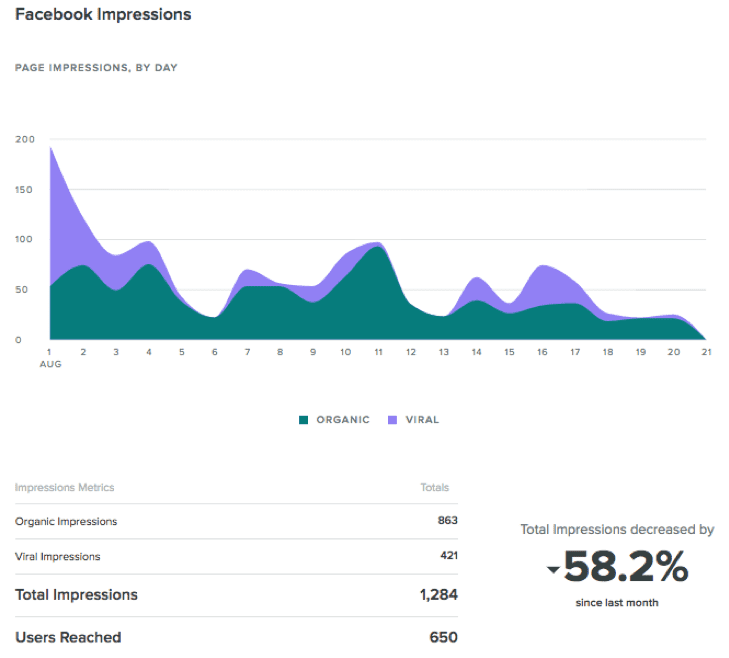 2. Architecture: channel design, structure, and functionality
For many brands their website is will be their major digital asset and the most important owned media property for setting the vision, look, and tone of the brand. How content and information is structured and presented is crucial to make an impact and ensure consistency.
Key questions:
What do digital assets look like and how are they organized?
How do the assets work?
How is the brand presented to customers?
Steps and actions:
Review the usability of your website with a focus on the following criteria: Design, presentation of information, load times, link integrity (broken links), and navigation
Most websites are now responsive by default but take some time to review how content appears on mobile. Check your site's performance across different mobile devices across different metrics: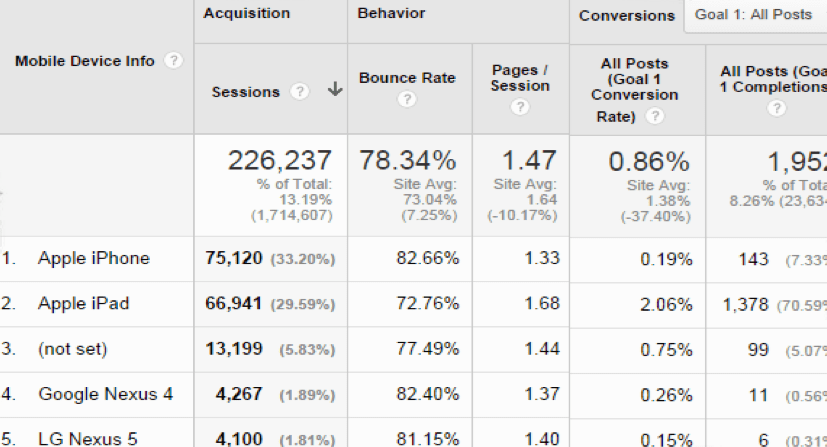 Take a look at the branding, appearance, and set up of your different social channels. Whilst visits to a brand's social pages may be limited, they are still important brand touchpoints and contribute to your channels' authority and reputation. Areas to consider include: Channel header, logo, page description and 'about', links related to sites and pages, and pinned posts or trailers to key content.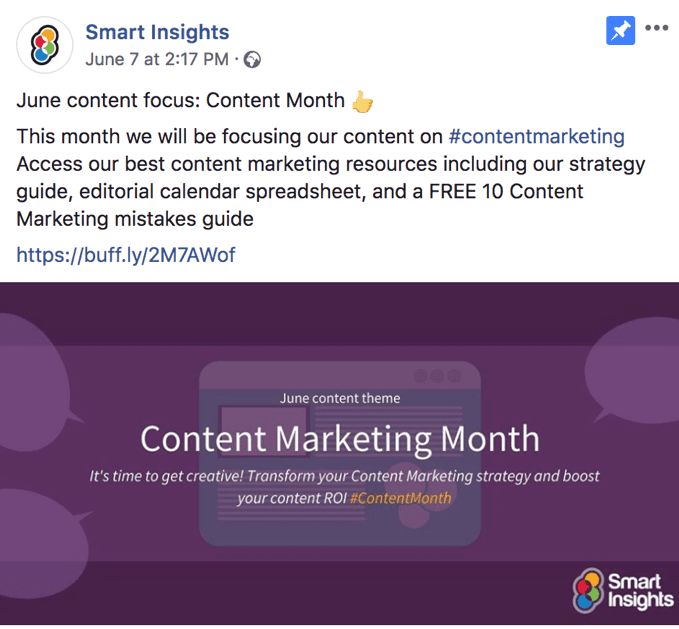 3. Content: process and assets
Not all content is created equal and it's therefore important to take a view as to what is good and what may need to go, either due to an objective assessment of the quality of how this fits with your wider content strategy.
Key questions:
What existing content needs to be re-worked or refreshed?
What new content should you be creating?
And where is that content best promoted?
Steps and actions:
Review existing content strategy:
What are the brand's goals and objectives for using content?
Who is the target audience?
What content types and formats are frequently used?
What content creation workflows and processes are currently in place?
How is content being measured and performance presented to management?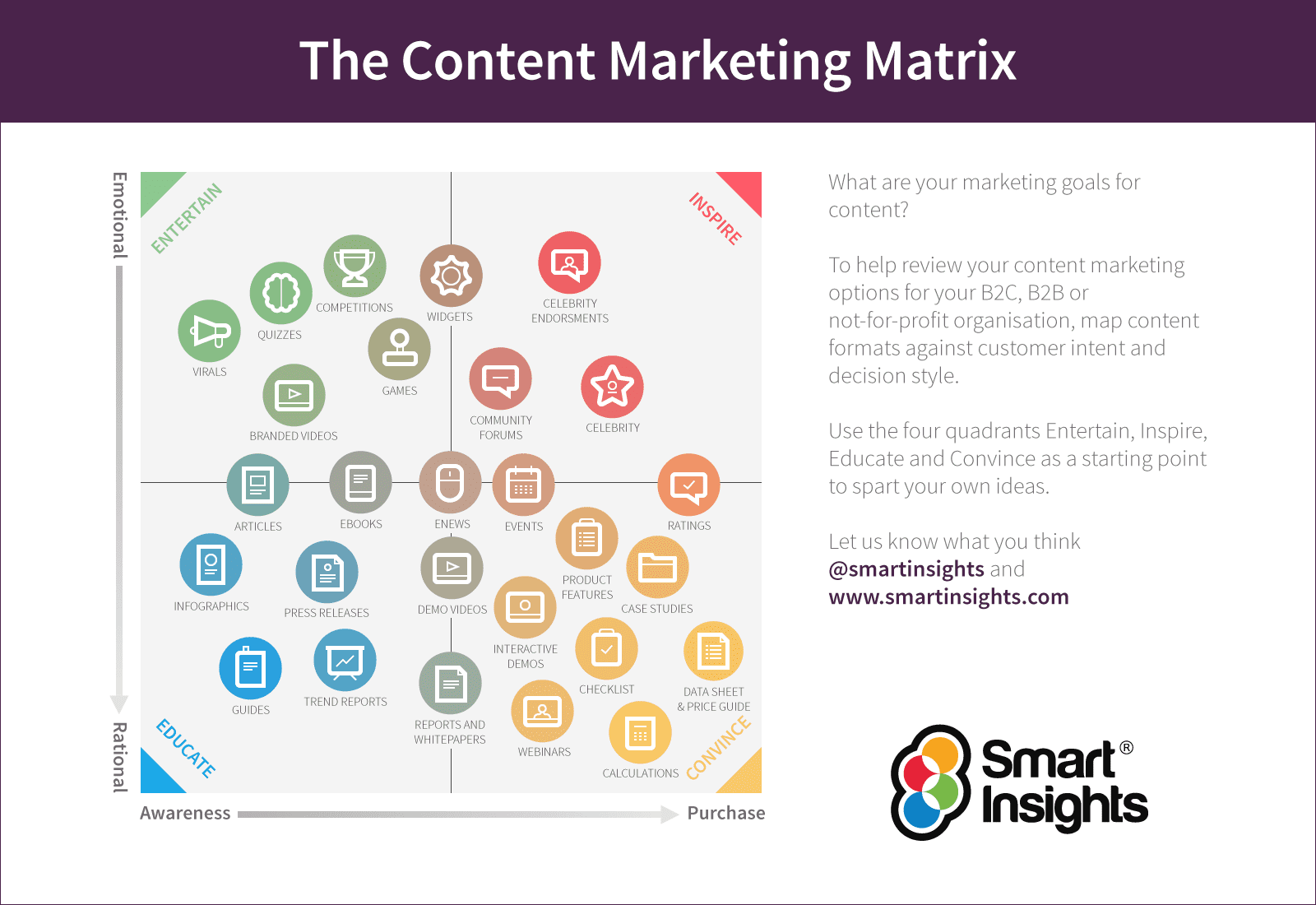 4. Integration: the connection between online and offline touchpoints
Whilst it is sometimes appropriate to keep elements of your digital footprint separate from one another, it can also be a missed opportunity if you're not cross-promoting channels and inviting your audience to connect in different places.
Key questions:
Our social media channels accessible from your website and other digital properties?
Are you cross-linking between different social channels and websites?
Is there consideration as to how online and offline connect (if relevant to your brand)?
Steps and actions:
Ensure that your main social channels are accessible via your website and positioned prominently to enable users to find and click. Ask yourself if the right social links are being used
Review links back to your website on your social channels. Are the links correct? Do they point to the right pages? (hint: they needn't always point to your homepage)
Review how online and offline channels are connecting and referencing one another. For example, does the brand use hashtags, URLs, or social icons within TV, print, and OOH advertising? Interestingly Marketing Land found that in 2017 hashtags in Super Bowl ads were overtaken by URLs: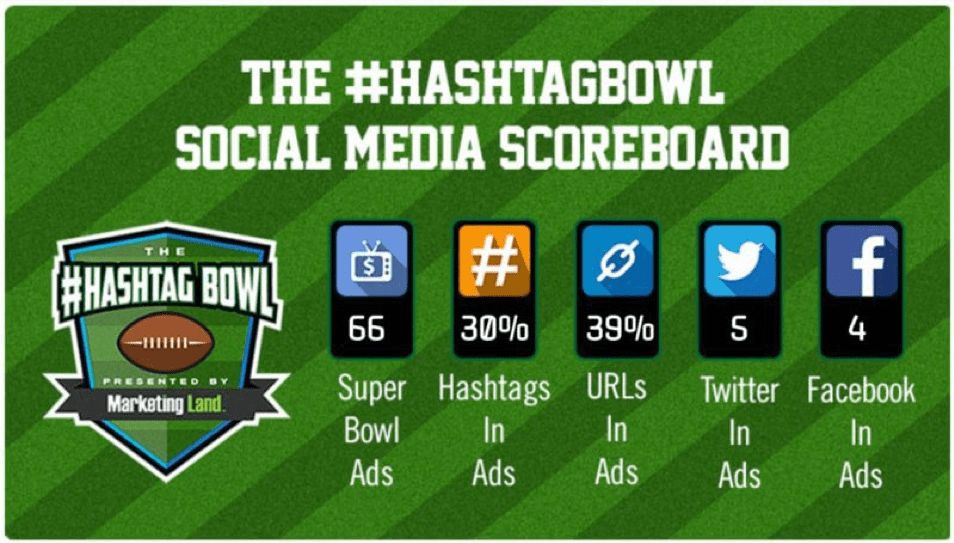 5. Measurement: digital objectives, metrics, and performance
Without a clear picture of performance, it's very difficult to form a baseline in which to make improvements and judge what has/ hasn't been working. It's also important to have the right reporting structures in place to ensure that all key stakeholders are receiving the right information to make decisions and take action.
Key questions:
Does your brand have the right objectives in place to measure KPIs?
What metrics are being used to measure performance?
What reporting structures are in place?
Steps and actions:
Ensure there is a robust and consistent measurement framework in place. A measurement framework/ model is a way to structure your thinking, prioritize goals, and organize the KPIs and metrics you'll use to measure performance: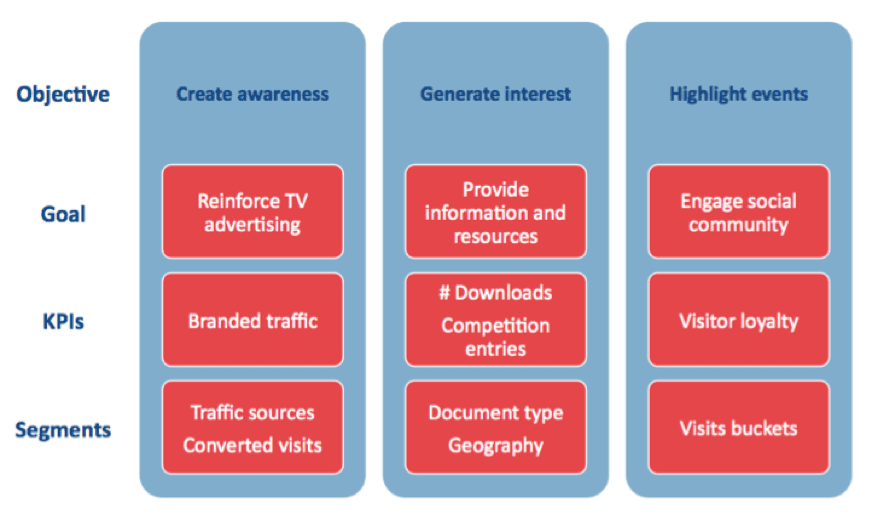 Review how content marketing campaigns and projects are being measured. As shown in the example above, goals, KPIs, and segments should flow from high-level business objectives so there is always a clear link back to what the business is looking to achieve
Check current reporting systems and protocols:

How often is performance measured?
When are reports being run?
What is being reported?
Why is the data being shared?
Who is receiving the data?

Summary
As mentioned at the outset of this post, there are many great guides and resources to more in-depth content audits which I would highly recommend taking a look at if you're intending to conduct a detailed content audit. But for those looking for a quick, cost-effective overview I hope the steps outlined above prove useful.
Whether you're conducting a deep-dive audit or a simple overview, the key objective is to ensure you get a 3600 view of how content is being planned, promoted, used, and measured.  Only by understanding how content is currently performing can you then start identifying opportunities for new content opportunities and build the credibility needed to sell ideas to the rest of the organization. The five areas of focus above provide a basic framework to structure your audit process.
[ad_2]

Source link