[ad_1]

Webinars are great for generating quality leads, building trust with an audience, reaching more people, and converting more leads into customers
In an increasingly competitive market where consumers get hit with content from all sides, webinars allow you to offer them more value than other, more traditional forms of online content (blog posts, infographics, etc.).
According to research from the Content Marketing Institute, 43% of B2B marketers use webinars platforms, and 55% use webinars as a key content distribution vehicle.
Ascend2, meanwhile, has found that webinars are the second most effective type of gated content resource for lead capture purposes, trumped only by download offers, and Demand Gen Report has found that along with research reports and emails, webinars are the most effective tactics for lead nurture.
If you're looking to get started with this powerful content format, read on for a comprehensive guide to creating webinars:
What do you want to achieve?
Before planning or creating a webinar, think of what exactly you want to achieve with it. For example, webinars can be used to:
Educate your audience: product demonstrations for existing and potential customers, or other educational material
Generate leads and build your email list: people are much more likely to give their name and email in exchange for a webinar; in fact, 79% of B2B buyers said they would give their personal information for a webinar in according to Demand Gen Report)
Establish authority and credibility in your niche: showing your prospects how helpful your product is can be far more effective than asking them to take your word for it
Convert more leads into customers and make more sales: few tactics are as effective for building a relationship with leads than when they spend a good hour or so watching you talk about how your product can make their lives better
Most marketers use webinars particularly to generate more leads. That's because, as I mentioned earlier, people are likelier to give away their contact details in exchange for a webinar as they provide more value than most other forms of content. On24's Webinar Benchmark's Report found that 29% of marketing webinar attendees convert.
What's more, most marketers put a big emphasis on the quality of the leads generated – and that is exactly where webinars shine.
Once you know what you want to achieve, you'll be able to determine what type of webinar you need to create to reach that goal. So, for example, if you were a business consultant looking to generate more quality leads for your business, you might hold a webinar that not only shows off your knowledge but also helps solve one of the big pain-points of your target audience.
Beyond that, though, you should also set clear, measurable objectives for each webinar. For example:
To get 300 attendees and a 65% attendance rate
To generate 100 new email addresses for your list
To make 5 news sales
Goal benchmarking is important, as it allows you to optimize future webinars. Don't worry if you don't get it right from the first try; by analyzing your results carefully, you'll learn what you can do to improve results on your next webinar, and so on – until you become a master of organizing holding quality webinars.
What should your webinar be about?
As I mentioned earlier, your end goal will help you figure out what kind of content you should provide to achieve that goal.
Beyond that though, all you have to do is a little research:
Use a keyword tool to research what keywords your audience is searching for: For example, use Google AdWords' Keyword Planner. This will help you understand exactly what your audience's questions and pain points are, no matter what product or service you might be selling. Use the most searched for groups of keywords to come up with multiple ideas for webinars
Ask your list: you could do a survey or ask your list directly of what they'd want to learn more about; give them a few options and let their answers come in
Look at your blog: which of your blog posts were most successful? Some of them could be great for a webinar, where you can cover the subject more in-depth. Additionally, look at the comments you receive: what questions do people have? What struggles are they facing?
Look at similar blogs: whether your blog is too small, or just because you want to do even more research, you can use other similar blogs for your research. Just like with your blog, find out what their most popular posts are (and why), and read through the comments they receive to see what questions and pain points their readers have
Plan your webinar
Once you've figured out what your webinar will be about, start planning:
Preparing the webinar
Promoting the webinar ahead of the day
Post-webinar, analyzing performance and repurposing the content
In terms of preparing your webinar, you need to be as ready as possible; not only have all your hand-outs ready (any PDFs, checklists, tests, and so on), but you need to be very confident about the subject you're going to speak about.
Plus, practice some common questions and how you would answer them; at the end of the webinar, a few minutes are left specifically for a Q&A.
Next, you need to get people to join your webinar; meaning, it's time to start promoting it:
Create a landing page where people can register
Promote the webinar/landing page on your blog and website (pop-ups, opt-in forms, and buttons); plus, if you have a blog, you can write a post about it
Email your list to let them know about your webinar
Promote on social media
You must promote your webinars heavily and over an extended period. Research from on24 found that 21% of attendees register over 15 days in advance, 37% in the last 7 days before a webinar, and as many as 26% register on the day of the webinar.
Once the webinar is finished, don't forget to measure your results, so that you can make better webinars in the future.
Here's a rundown of some of the best webinar tools:
ClickMeeting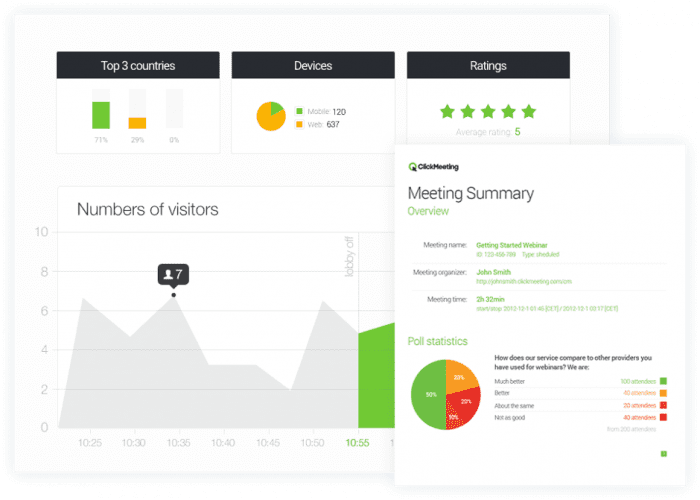 ClickMeeting is an all-in-one webinar tool that helps you through every stage of the process, before, during, and after the webinar.
You can use it to create a webinar room with your branding and:
Get people to attend with customized invitations, a registration page for the webinar
Hold your webinar in audio and video and show your slides and other documents, use a whiteboard to illustrate your points, and use screen sharing for demonstrations.
Add calls to action during your webinar and post a poll or survey at any time to collect information and feedback (plus, some very valuable customer insights)
Record your webinar and store it
Get attendee statistics to understand your performance
Share to social media
What I love about ClickMeeting is that it offers the full suite of tools needed to create, promote, hold, and measure your webinars' performance, making it a perfect solution for those who want to integrate webinars into their content marketing strategy – something that you won't find with many other major webinar tools.
AnyMeeting
AnyMeeting is a webinar and video conferencing tool; when it comes to webinars, you can use the tool to:
Create custom registration forms to collect attendees or your webinar
Connect with your email marketing, marketing automation, and CRM tools through Zapier
Facebook and Twitter integrations for promoting your webinar
Hold webinars with up to 6 presenters
Take real-time polls during your webinar
Hold audience Q&As with the Q&A tool
Use screen sharing, presentations and share all kinds of files and media
Have up to 1000 attendees on your webinars

GoToWebinar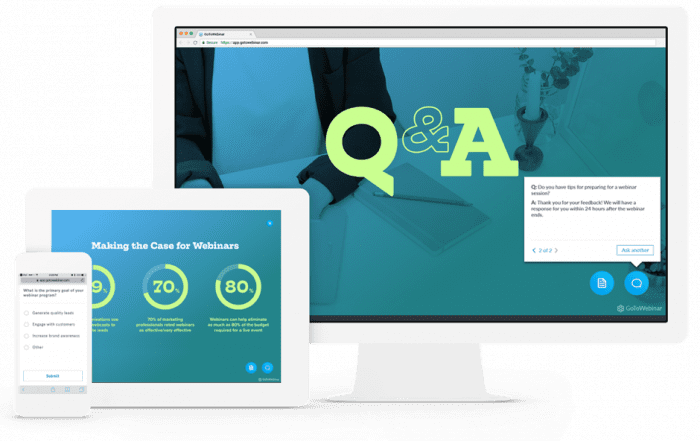 GoToWebinar is a tool designed to help businesses of any size and shape, create and hold a webinar:
Create customized registration forms to gather registrants and their relevant data
Send email invitations, confirmations and reminders, automatically
Customize your webinar with your branding
Add polls and surveys during the webinar to collect information and feedback
Hold Q&As at the end of your webinars
Record your webinars and reuse them anywhere you need to
Create pre-recorded webinars and the new Simulated Live feature will help the event "feel" live
Built-in reporting and analytics for your webinars
Conclusion
Webinars, as I mentioned earlier, can provide a wealth of benefits:
Build more trust and credibility with your target audience and your leads
Raise awareness of your business
Increase your authority in your niche
Generate more leads and make more sales
Create a new revenue stream – if you keep at it, it can become a very profitable revenue stream, for that matter.
Have you created any webinars yet?
[ad_2]

Source link