[ad_1]

With every company keen to climb Google's search rankings, it is easy to lose perspective by simply churning out fresh content that seizes on the zeitgeist or otherwise meets current demand
It is difficult to overstate the importance of evergreen content for modern content marketers. With every company keen to climb Google's search rankings, it is easy to lose perspective by simply churning out fresh content that seizes on the zeitgeist or otherwise meets current demand.
Evergreen content, though, doesn't age the same way: it is, by nature, time-proof, as relevant if read in a year as it is today. While Google does like to answer searchers' queries with up-to-date articles, it also rewards high-quality legacy content created many months or even years ago – particularly if you update it regularly.
Some blog pages have stubbornly hung on to a number one page ranking for eight or nine years now, bringing a constant stream of traffic to the page, as well as building trust (being the number one spot in search results will help make more people trust you and your business) and, consequently, boosting your conversions.
By creating evergreen content, you are both pleasing our Google overlords and providing solutions the customer will find valuable. By focusing on an article, infographic or video that stands the test of time, whether because its content is timeless or easy to quickly update, you can positively influence search engine ranking, traffic and lead generation. Evergreen content provides more value to the reader, and as a result, more publications are likely to link to it, resulting in improved page and domain authority.
In this blog post, I'm going to talk about four types of evergreen content you should start creating for your business, along with tips and best practices for creating better-performing evergreen content.
Essential elements of good evergreen content
Before you start populating your editorial calendar with new content ideas, what makes a good piece of evergreen content?
For a start, it needs to provide real value to your audience: What does your audience get out of this piece of content? What is the value to them? In order for a piece of content to perform well for long periods of time, it needs to provide this value to the audience – usually, in the form of educating them and informing them about a subject.
Another hugely important factor is that it the information in your content is relevant for a long period of time – even if you might have to make occasional changes to bring it up to date. For example, a Facebook marketing guide won't be relevant for long as Facebook makes changes frequently to their algorithm, along with adding new features; but, if you update the guide regularly to reflect new changes and features, then it will continue to stay relevant.
In terms of length, although evergreen content doesn't necessarily need to be long, satisfying searchers often necessitates an in-depth piece.
As such, many pieces of content that cling to a page one ranking are on the lengthy side, having required considerable time and effort on the research and writing side of things. Compelling evergreen content almost always attracts a significant number of page views when it first appears and the effect gradually snowballs.
Best practices for creating evergreen assets
Before you start creating any new evergreen content, here are some tips to help you create better, more effective content:
Research keywords
This is one of the most vital parts of creating evergreen content. With thorough keyword analysis, you can identify the phrases and queries that searchers are using, then retrofit your content accordingly.
With a strong focus on keywords, particularly in the article title but also in subheadings and body copy, you'll give yourself the best chance of driving traffic to your page – and perhaps just as importantly, understanding which topics are relevant to your audience over longer periods of time.
To help, you can use "traditional"  keyword research tools like the Moz Explorer or something like Answer the Public, which helps you visualize and discover all of the different queries and questions people Google.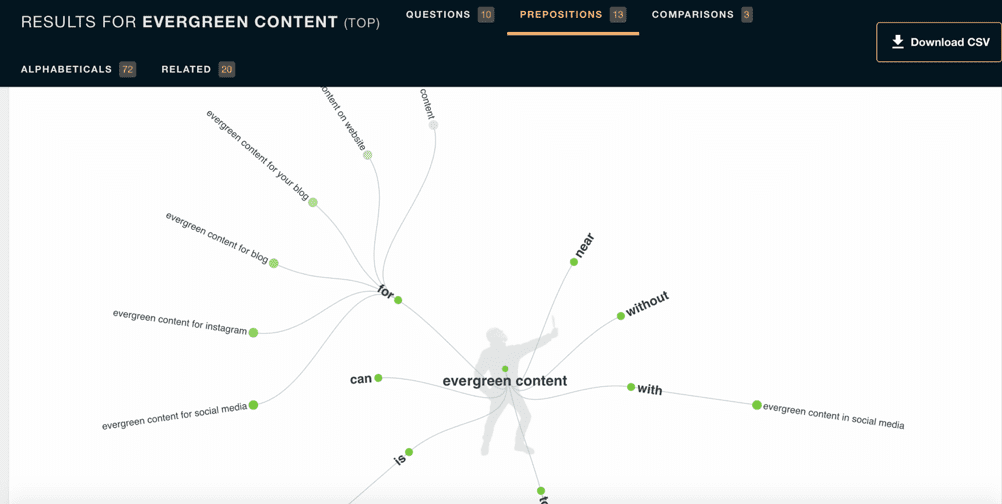 Magnify and dissect specific topics
Although how-to guides are highly comprehensive, there is definitely a place for creating succinct evergreen content that zeroes in on a single subtopic or feature.
For example, you might be selling a piece of software. In addition to creating an authoritative long-form guide on the software as a whole, you should consider crafting a dozen or more short articles concentrating on particular frequent queries that your target audience might have. For example, definitions and explanations of industry terms, like this short article that pops up when you search for "what is SEO":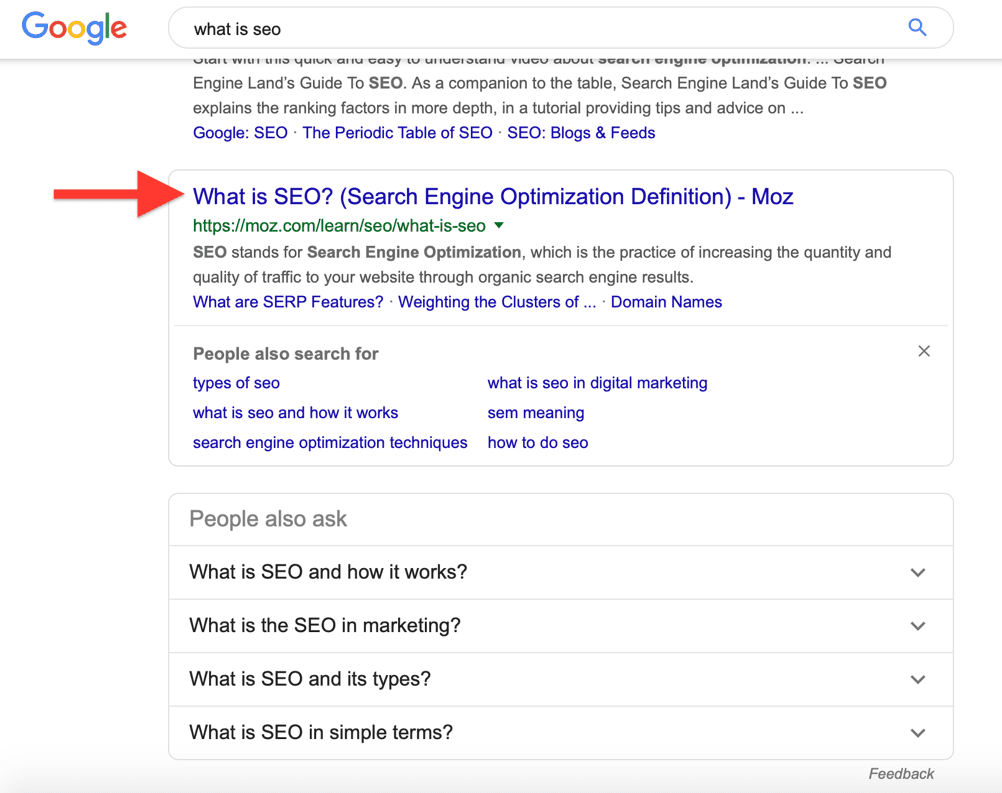 Use short paragraphs, concise text, highlight elements
Some of the greatest writers in the literary canon penned page-length paragraphs to get their point across. Leave that to the old-timers: digital natives prefer short two or three-line paragraphs and understandable language.
Because modern searchers have a penchant for scanning content, their eyes alight on words or phrases which are highlighted. Not to mention, so many of us now consume content on our mobile devices – and a small screen makes it difficult to read long paragraphs.
So make it easy for your audience by highlighting key points and instructions in bold, as well as using short paragraphs, bullet points, keyword-rich sub-headlines, along with lots of imagery
The best types of evergreen content
Now that we've gone through the best practices for creating great content, here are some ideas of evergreen content that you can get started on:
Comprehensive user guides and tutorials
How-to guides and tutorials are exceptionally good examples of evergreen content. These long-form documents are just what searchers are looking for and are ideal for strategically deploying both short and long-tail keywords.
Think about it this way: people will always seek to find the best way of doing something, whether it's building an extension or editing a home video.
If your content satisfies their curiosity and is sufficiently definitive, Google will sit up and take notice, along with other publications who will want to link to it; and your well-crafted article will continually attract new readers asking the same question or variants thereof.
While how-to guides might require some tweaking from time to time, they rarely require a significant overhaul. Just be mindful of where revisions might be necessary. For example, if you decide to create a how-to guide on Facebook advertising, you should be aware that it will require revisions pretty much every time Facebook releases an update.
Customer testimonies
Creating review pages of your products or services is a wise idea, as positive reviews stand the test of time. OK, consumers might not trust a decade-out-of-date review of a company that has since taken a completely different direction and replaced its board of directors; but for the most part, customer testimonies have long relevance and improve visitor trust.
Think about it: if a consumer is attempting to find out whether they can trust a company, Google will almost certainly feed them review pages.
Curated lists
Listicles help searchers make a better-informed decision. Whether you are ranking apps, blogs, restaurants, software or some other asset, such rundowns have terrific potential to become evergreen.
Just make sure your lists are useful, well-written and updated as necessary. After all, you don't want to be touting an obsolete tool or defunct blog as number one. By the same token, you'll want to make sure all links in evergreen content are kept up-to-date.
Checklists
Checklists are fun, easy to use and can provide a lot of value to your audience.
They tend to attract audiences as they're so highly effective at making sure you're doing something the right way – and they can be used by pretty much any industry or niche.
Do you sell financial services? Then a "personal finance checklist" will likely generate a lot of downloads from your target audience – and stay relevant for years.
Maybe you run health-based services? In that case, an "emergency checklist for seizures" will help you reach your target audience via search engines.
Whatever you're selling, services, or products, there are always ways to leverage such checklists; and many of them won't require much changing over the years.
Conclusion
All businesses can benefit from creating quality evergreen content, regardless of their size, budget, industry or conversion goal. Focus on crafting unique content whose value to readers stands the test of time instead of creating content just for the sake of it – even if the content is longer, more complex or requires more research. In the end, it will help you generate more positive results than any "regular" piece of content: more leads, more conversions, more traffic, and better SEO.
[ad_2]

Source link